Taking Blood & Cannulation
Taking blood and cannulation for intravenous infusions are important skills for nurses. The procedures often induce anxiety for children and families. Nurses are important to explain the process, why tests or procedures are needed and to offer support. Play therapists are very useful for young children to minimise anxiety and upset. 
Topical analgesia patches are helpful but take up to an hour to be effective and the delay may incur more anxiety. Analgesic (freezing spray) sprays are more rapidly effective but can be unpleasant. The use of ice cubes topically is often well tolerated and preferable to a cold spray for some children in certain circumstances.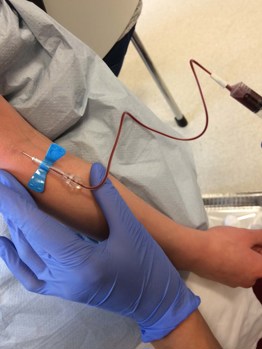 Examples of good practice are given below.
Problem

Nursing support

Patient requires intra-venous infusion to treat underlying condition.

Establish if the child is well.
Nurse to have knowledge and understanding of the medication to be administered including potential adverse reactions and side effects.
Prepare infusion and equipment required.
Select most suitable site for cannulation considering any loss of joint function, restricted joint or painful joint.
Explain procedure to parents and child in a manner appropriate to age and understanding.
Make sure positive language used to reflect the rationale for treatment and not using negative descriptions.
Consider the use of topical agents if required.
Make sure the child is in the correct position and parents are supported.
Safe disposal of needle and equipment.

 

Immunocompromised due to underlying condition and subsequent treatment.

Establish if child is fit and well. 
Parameters to postpone injection include temperature >37.5 degrees Celsius on two occasions (or >38 degrees on a single occasion), has commenced antibiotics within forty-eight hours, or the child looks unwell.
Contact specialist team for advice or guidance.
If in doubt delay infusion and seek specialist advice.