Transitional Care
Libby is a 15-year-old girl diagnosed 6 months ago with Juvenile Systemic Lupus Erythematosis (JSLE). She has been on a reducing dose of steroids and immunosuppressive treatment. Although her disease control is good, Libby has missed school because of her illness, hospital appointments and is experiencing side effects from treatment. 
What are the key issues for her management ?
Disease control is important as JSLE is a serious disease with high morbidity and potential mortality. 
There may be multisystem disease and potential for serious organ damage. Treatment regimes may include systemic corticosteroids with cytotoxics or other agents to achieve disease remission.
The duration of therapy can be prolonged and that may include several months on high dose corticosteroids which can incur significant side effects; she has concerns about her weight gain, striae and acne all of which may be exacerbated by the prolonged corticosteroids. She is struggling to come to terms with her altered body image due to side effects of her treatment and being unwell. 
Libby has been missing school as she is tired all the time and feels she does not get support from friends, teachers or her family.
Prolonged chronic illness and bouts of acute flare up of disease can often cause irregular menstrual cycles or periods of amenorrhoea. This can cause considerable anxiety and low mood.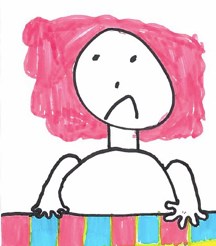 MDT interventions
The table below lists several of the potential problems and interventions that could be helpful.
| | |
| --- | --- |
| Reduced school attendance | Liaise with school to improve understanding of the young person's condition, treatment & impact. Education of family & friends about impact of disease & ways to provide support. |
| Tiredness / fatigue | Family may need support establishing bed times, sleep hygiene & appropriate rest. Advice about pacing & building up stamina. Physiotherapy might be useful.Assess how many days missed from school in a three-month period. |
| Increased risk of thrombosis | Make patient aware of the risks of smoking. Refer to smoking cessation services as required. Avoidance of oestrogen containing pills. |
| Increased disease activity caused by sunlight | Advise re sun safety & use of sun block (likely most days even if not sunny). |
| Potential changes to menstrual cycle due to disease | Consider referral for contraceptive pill although there may be concerns about oestrogen containing pills that may exacerbate disease flares. |
| Weight gain (steroid induced)   | Monitor weight at follow up using growth chart. Steroid dosing and duration monitored by prescribing team. Balance adjustment of dose to achieve clinical efficacy whilst minimising side effects.Assess dietary intake, advise about healthy diet & lifestyle. Consider referral to dietician. Consider referral to physiotherapist for gradual exercise programme when her disease control is better and she is less fatigued. |
| Striae | Assess severity & location. Steroid intake monitored by prescribing team.Assess dietary intake, advise healthy diet & lifestyle. Consider oil-based topical moisturising products. Explain that striae become less visible over time.  |
| Acne (potentially steroid induced or exacerbated) | Assess severity & location. Steroid intake monitored by prescribing team.Balance adjustment of dose to achieve clinical efficacy whilst minimising side effects. Consider referral to dermatology for specific treatment. |
Libby's progress
Libby had regular outpatient appointments to monitor her progress, disease control and plan her treatment regimes. She had regular contact with the MDT and access to the nurse specialists through the telephone helpline. 
She attended clinics with her mum and was encouraged to see the doctor on her own for part of the consultation. She was also encouraged to talk to the nurse specialists 1-1 and then also with her mum present. She developed rapport with the team and expressed concerns about side effects of her treatment (weight gain, striae and irregular periods) and the impact of her disease on schooling and peer relationships. 
The team talked about her concerns and planned to work with Libby and her mum to liaise with school to plan her return to education, helping her to liaise with her teachers to address fatigue with a phased return to school, rationalising her timetable and help with 'catch-up' for her school lessons. There was also input from the physical therapists to help her with her exercise regime and building up of stamina. The nurse liaised with the psychologist to support Libby with her self-esteem and build up her confidence again with her peers. Education about her disease and treatments was an important way to help her understand the management plan and to reassure her that the weight gain was reversible and that the striae would fade with time.
Over the next few months she made considerable progress especially as her steroids were weaned. 
Libby's case highlights many aspects of transitional care (e.g., consultation without parent, confidentiality, HEADSSS, self-esteem)