Scleroderma
Scleroderma in childhood is rare and variable in clinical presentations. 
Localized scleroderma is the most common and can present at any age, with the appearance of a patch of abnormal skin (called morphoea) and which, when untreated, generally follows a course of active expanding disease, fibrosis and eventual softening with some "remission".
The functional and cosmetic impact can be profound, as the lesions may interfere with growth of a limb and subcutaneous tissues (of the face or a limb). 
Systemic scleroderma is extremely rare in children and includes progressive diffuse fibrous changes of the skin and fibrous changes involving internal organs - most commonly lungs, gastrointestinal tract, heart and kidneys - with a significant mortality.
Systemic scleroderma is slowly progressive, has a guarded prognosis and requires potent immunosuppression. 
Management includes aggressive treatments (corticosteroids and methotrexate, as well as other immunosuppressives) with the aim of limiting severe disfigurement and disability.
The photograph below shows linear scleroderma with pigmented indurated lesions and the right foot is smaller than the left.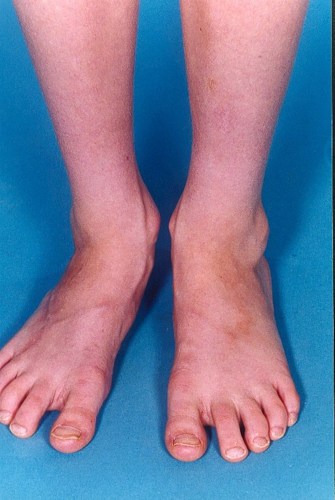 The photograph below shows linear scleroderma with typical 'waxy' pigmented lesions over the foot.