Foot, Heel & Ankle Pain
Foot, heel and ankle pain in children are common. More information is given in the 'Causes of foot, heel and ankle pain' section.
Key points (and common pitfalls !!)
Check footwear - ill-fitting shoes may be the cause !
Check for ingrowing toenails, blisters, splinters or verrucae / warts !
Growing pains do occur but are a diagnosis of exclusion.
Normal variants do not usually cause pain - so be careful and be alert to the possibility of other causes; children with flat feet may also have inflammatory arthritis. 
Flexible Flat Feet are 'normal' in many children. By 8 years old, few children have flat feet. Remember - Failure of the arch to return on tip-toe standing implies rigid flat feet: consider tarsal coalition or inflammatory arthritis.
Heel pain can result from inflammatory arthritis or tendon insertion inflammation (enthesitis). This can be a feature of enthesitis related arthritis. 
Heel pain may also be a feature of Sever's disease - osteochondritis - with tenderness over the calcaneum. 
The photograph shows a non-mobile rigid flat foot. The differential includes tarsal coalition or inflammatory arthritis.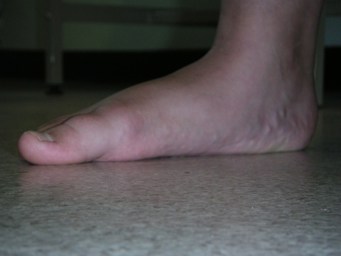 The radiograph below shows fusion of bones between the calcaneum and mid foot (arrow) - this is tarsal coalition but radiographs can be normal (cartilaginous bar may be seen on Computerised Tomography)