Kawasaki Disease
Kawasaki disease (KD) - is an acute illness usually seen in young children (most commonly under 5 years of age).  KD results from an inflammatory process with potential to develop aneurysms of coronary and other blood vessels resulting in long term morbidity and mortality. Prompt diagnosis and early treatment with intravenous immunoglobulin and high dose aspirin, markedly reduce the risk of developing coronary aneurysms.  The diagnosis is based on the following criteria:
Temperature of 5 days or more plus 2 (or more) of the following:
Red eyes (not sticky)
Sore mouth, cracked red lips, red tongue (often strawberry like)
Skin rash
Cervical lymphadenopathy
Changes to the fingers and toes often with redness
Most symptoms occur in the first few days of the illness, although they may not all be present initially.  Other typical features include irritability, loss of appetite, moodiness, diarrhoea, abdominal pain vomiting and jaundice. Although not a criterion for diagnosis, reactivation of BCG at the site of the skin inoculation, is also a characteristic feature observed in KD and can be helpful in the differential diagnosis of a child presenting with a febrile illness. 
2017 American Heart Foundation Guidance on the diagnosis, treatment and management of Kawasaki Disease.

2021 American College Rheumatology Guidance on Kawasaki Disease. 
Further Resources 
The photograph below shows characteristic skin peeling in KD after 10-14 days.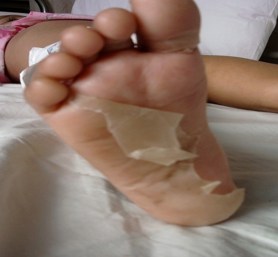 Multisystem inflammatory syndrome in children (MIS-C) is a hyperinflammatory condition among children with recent severe acute respiratory syndrome–related coronavirus 2 (SARS-COV-2) infections or exposures and further information is available.