Intermittent Limp 3
A 6 year old boy presents with a few months of intermittent limp - worse after school (with some aches in his right thigh) and if he has been playing football. There has been no trauma noted and he is otherwise well with no fever and his appetite is good. He presents to his GP and his parents are concerned that he has growing pains. They seek advice on how to manage his pain. 
Examining him demonstrates a limping gait and discomfort on moving his right hip. Otherwise he looks well and has no fever. His testes and abdomen are non-tender and appear normal.
These are not growing pains because he has a limp, day time symptoms and restricted range of hip movement. Clearly his presentation is not consistent with the rules of growing pains. 
Investigations need to include a radiograph of the pelvis (preferably including a frog-leg view) and basic blood tests (blood count and inflammatory markers). An ultrasound of the hips may be considered.
Blood tests were normal.  Ultrasound of his right hip demonstrated a small effusion. 
Below are the X-rays- AP (top image) and frog-leg of the pelvis- at the time of the first visit.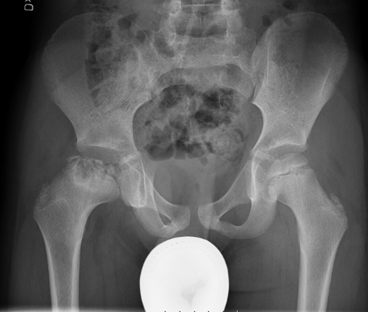 The X-ray images show a slight flattening and sclerosis of the right femoral epiphysis, consistent with early stage Perthes´ disease. The frog-leg view also demonstrates early fragmentation of the epiphysis. The child was referred to a paediatric orthopaedic surgeon who recommended the child to reduce all painful activities, such as football and other contact sports. The child was referred to a physiotherapist for stabilising exercises and to assess adequate range of motion (in particular abduction).  NSAIDs were prescribed for pain and a wheel-chair for intermittent use. He was followed clinically and radiograpically for several years.  Ultimately he may have a worse radiographic outcome but symptoms may be less severe due to the absence of effusion.